Schniken Solutions – The Social Media Marketing Trendsetters to Accomplish Your Business Advertising Goals
Being social? Yes, it is important!
Schniken Solutions empowers marketers with advanced tech and strategic support to engage audiences and elevate brands with effective campaigns.
We are a trusted social media advertising agency offering exceptionally outstanding social media marketing services to businesses worldwide. We have an in-depth understanding.
Research says, 'Digital consumers spend nearly 2.5 hours on social networks and social messaging every day.'
'More than 40 percent of digital consumers use social networks to research new brands or products.'
It doesn't end here……
'Around 53 percent of businesses use social advertising.'
Obviously, as a business owner, you should understand the importance of social media management services in your marketing plan.
Absolutely! A strong presence on social media is the key to tackle today's market.
Social media channels such as Facebook, Instagram, Twitter, and more, are the platforms where the majority of your customers hang out.
Strategizing an ideal and result-oriented social media marketing campaign is important to bring new customers and increase brand awareness.
As a trustworthy social media marketing company, we know how to handle social media advertising for all small businesses, start-ups, and larger firms.
Let our social media marketing experts handle all your social media, while you sit back and relax while getting surprisingly positive results on your investment.
Regardless of what industry your company is in, your customers are using social media on a daily basis. It is important to be connected and engage with your targeted audience.
Known as the best social media management agency, we ensure your social media channels communicate your business perfectly to customers, thus building your brand.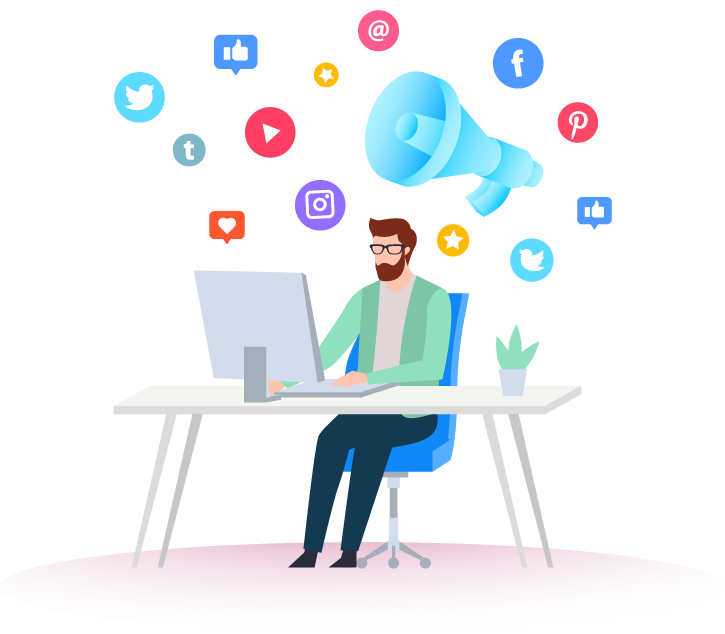 Create Social Media Content that Illustrates Your Brand Values
As a trusted social media management agency, we customize content on your social channels for both public posts and messaging used to interact with fans and followers. We utilize customer interaction to understand the customers' behavior and what they think about the brand, then efficiently use it to advance your products and services.
Analytics and Performance Reporting
Your trusted social media marketing consultant, Schniken Solutions, will track the social media channels where posts increased interactions and engagement. This allows us to create more posts like them for future marketing.
Social Business Page Creation
In case your business doesn't have a social media page, Schniken Solutions will create a social business page for your brand with a perfect cover and profile image.
Marketing across all platforms
Known as the best social media management agency, we have industry knowledge and experience to run social media campaigns in order to increase your user base and keep them around.
At Schniken Solutions, we connect brands with their audiences. If you are running a business, take advantage of our forward-thinking, social media marketing services, and engage with your customers at a more personal level.