Graphic Design
Graphic design, also known as communication design, is the art and practice of planning and projecting ideas and experiences with visual and textual content. The form it takes can be physical or virtual and can include images, words, or graphics.
The experience can take place in an instant or over a long period of time. The work can happen at any scale, from the design of a single postage stamp to a national postal signage system. It can be intended for a small number of people, such as a one-off or limited-edition book or exhibition design, or can be seen by millions, as with the interlinked digital and physical content of an international news organization. It can also be for any purpose, whether commercial, educational, cultural, or political.
Design that's to be experienced in an instant is the easiest to recognize. Designers arrange type, form, and image on posters, advertisements, packages, and other printed matter, as well as information visualizations and graphics for newspapers and magazines.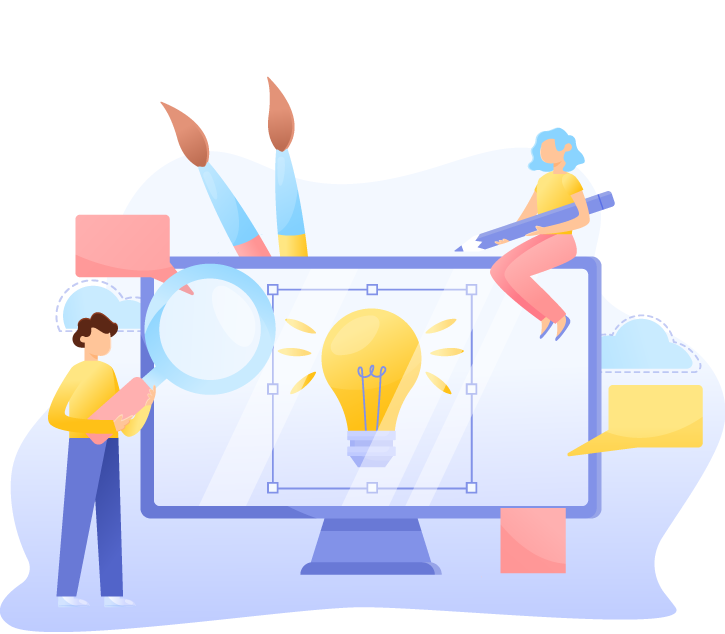 You can win more traffic and leads through creative graphics! We deliver well-resourced, graphic design services.
If you've been in the digital market for a while now, you probably understand that a business can do nothing without good graphics on their digital front! Graphics are needed for the website, for running marketing campaigns, for digital ads, for social media, and also, for communicating with clients.
With such a wide-ranging need for graphics, it is essential for a business to seek custom graphic design services by professionals.
Graphics are needed in the beginning of development. For website development, you need a business logo and promotional graphics to put on the website. Aside from that, you regularly need good-quality graphics to keep your marketing or advertising campaigns going on the web.
Also, with expectations of users rising in the past few years, you also need graphics to strengthen your social media game! Overall, good graphics are necessary for initiating and maintaining engagement with the audience.
Schniken Solutions houses a team of creative and certified graphics experts. We create graphics that engage your audience with your website or social media accounts. Here are a few from the professional graphic design services that we offer:
Logo Design
Even before starting the work for your website design and development, you need a business logo! Your logo brands your website, social media accounts, and other platforms. We create logos with a story behind them: they are easily recognizable and unique! As a graphic design services company, we are well aware of the demands of businesses for a stand-out logo and we deliver that!
Web Design
A website is designed and developed by combining diverse types of graphics. These include web designs, banners, icons, pages, buttons, and a number of other elements. All these come under the category of web design, but is also a part of graphic design. Schniken Solutions studies your business, website and its theme thoroughly to create a matching and functional web design for it! To take advantage of our skills, pick us as your web graphic design services company!
Content Design
Our content creators always have their creative caps on as they work to present your business through unique and creative content. We create graphics, images, social media posts, infographics, and more, through our winning combination of content creation and graphic design! Our professional graphic design services can be utilized for the long run, to keep your social media and blogs updated and alive with new graphics.
Game Design
Video games are the primary games most people are playing these days! You must have seen the case of Pokémon Go and now, PUBG! If you have a game idea in mind, tell us and we will help you create the best game to match. We have certified game designers on board, and from them, you can outsource graphic design services for your video game!
If you are looking for the best graphic design services company, Schniken Solutions is the right pick! Get in touch with us, today!
We deliver custom graphic design services in New York and throughout the world.