Target the biggest audience of mobile users by creating an advanced Android app with top-notch UI/UX design.
Mobile app development is not a new topic, as businesses and digital experts are already knee-deep in it! However, it constantly evolves with ever-changing trends in mobile apps and the needs of mobile users. Being a business owner, you can't necessarily keep track of what's new in the world of mobile app development. Though, it is evident when businesses lag behind because they have outdated, obsolete mobile apps.
If you don't want problems like this, using professional android app development services is the right choice!
At Schniken Solutions, we have provided these services since the advent of mobile applications! Through the years, we have analyzed every little detail of the leading, mobile device, operating systems. Also, through our market research, we stay connected with the latest trends followed by mobile users and their expectations.
One of the niches we excel in is android app development! From the launch of the first Android OS, we have been learning consistently. As newer versions of Android come out, we keep improving our understanding of the technology, our techniques, our process, and our results!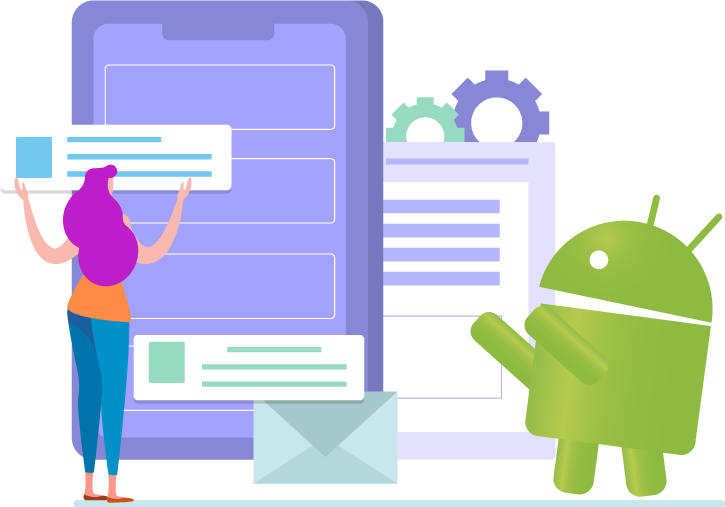 Custom Android App Development
Bring your ideas to the table, and we will turn them into a fully-functioning, high-performing Android application. If you choose us as your android app development agency, we start with a straightforward consultation, listening to your ideas about your perfect Android app. We combine your ideas with our expertise and deliver the best app that suits your business. We are experts in technologies like Xamarin, PhoneGap, Appcelerator, and many more, allowing us to create the best apps! If you are looking for custom Android development solutions, we offer a wealth of services!
Enterprise Android App Development
Ask about smooth, powerful enterprise apps and we will tell you why you should pick us as your android app development solutions provider. We have worked with countless business organizations in the past and know how perfect it is when internal business activities are managed and controlled through efficient mobile apps. We have delivered Android-based, enterprise apps that are completely reliable, highly accurate, and give the freedom of work from a distance.
eCommerce Android App Development
Do you have an eCommerce store or plan to start one? We can assure you a high-tech, smooth, ultramodern mobile app for your store! Our team of experts has specializations in platforms like Shopify, WooCommerce, and others, helping us create the best eCommerce apps. We ensure smooth navigation, great UI/UX design, safe payment gateways, and more! And, our eCommerce android application development services don't stop there. We also provide support services, whenever you require!
Android App Testing
Android apps created by us never leave with bugs in them! We thoroughly test our Android apps, plus check their performance, look, and feel. The design, features, navigation, and other controls of the app are tested for bugs and crashes. We see if the app is running properly by using an assortment of tests. If something doesn't seem right, we work hard to remove the bugs/issues, and make sure we do the best job!
If you are looking forward to executing an Android app in the most effective manner, get in touch with Schniken Solutions.
We are a well-known android mobile application development company, delivering services in New York and around the globe!