Game Design
Game design is the art of crafting experiences, says AIE second-year game design teacher Jennifer Scheurle. We asked her to share her expertise on crafting an experience, and the processes of designing and prototyping a game.
You said that game design is about crafting experiences. But what do you mean by that?
As a game designer you literally are the person who has to hold together the vision of the experience you want to convey. A lot of people mistake game design for writing the actual game, which is not the case at all. Depending on the company you might do a lot of writing but it's mainly documentation.
What you're trying to do is nail down exactly what it is you're trying to get across when someone plays the game – what emotions, what experience, what story do you want to tell – and then you're in charge of making that happen…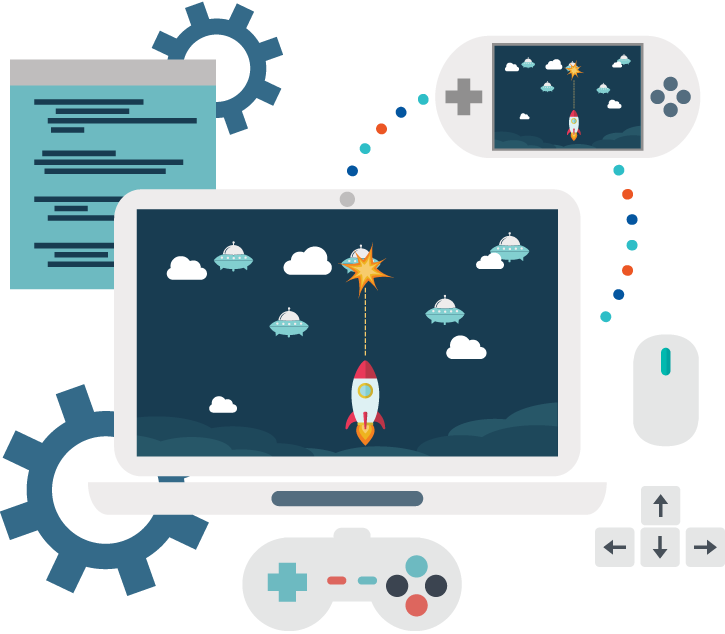 Enter the world of mobile games with captivating designs and animation! Get the best game design options at Schniken Solutions.
Video games are not a new thing, but new things keep coming to the world of gaming nearly every day! Making the most of the development in graphics, animation, the internet, and technologies like AR-VR, the concepts of gaming have evolved throughout the years! If you have an idea for introducing a game that takes the world by storm, as PUBG and Pokémon Go did, Schniken Solutions is here to help!
We are a game app development company with a team of gaming experts, animators, 2D and 3D artists, and AR-VR experts giving their all to create winning games. We create high-quality graphics for video games, and inject them with newer technologies to give users the best experience!
Our team has created a number of video games and gaming apps. We have the right experience and a knowledgeable team of experts to help turn your idea into a winning game!
Concept Art Creation
Every important thing starts with a well-thought-out plan or in the case of games, a well-thought-out concept. Concept art is the visualization of the idea for your game and is considered the foundation of its creation. Schniken Solutions houses a team of creative and smart concept artists, delivering immaculate game design services to our clients. Tell us your idea, and we will turn it into a visual concept for your game design.
2D/3D Game Development
Whether it's 2D or 3D, we create games in both formats. We keep the needs of users in mind and create very entertaining, high-performing, 2D and 3D video games for mobile devices. Also, as an efficient game app development company, we are masters in both 2D and 3D graphics, which make apps fun and entertaining for users.
AR Game Development
Augmented Reality (AR) has become a trending game tool in the past few years. With AR reaching almost every sector of the world, gaming doesn't lag behind. The classic example of infusing this technology with games is Pokémon Go! Also, with the introduction and widespread use of VR-headsets, mobile users are now very much into AR games. If you pick Schniken Solutions as your mobile game development company, you can deliver the best of AR to your audience.
Animation
We pay heed to even the tiniest details in game design and development. Our team of animators is always there to add life to even the little elements in the game. We add animation to mobile games, mobile gaming apps, and even other apps we develop. If you are looking for the best results in game design, development, and animation, choose Schniken Solutions as your game development agency!
With all these services and our expertise in different areas of game design, we stand strong as the best game app development company in the region.
We serve clients in New York and the digital market throughout the world! Contact us, discuss your gaming idea, and let us kickstart your game design process!